Our History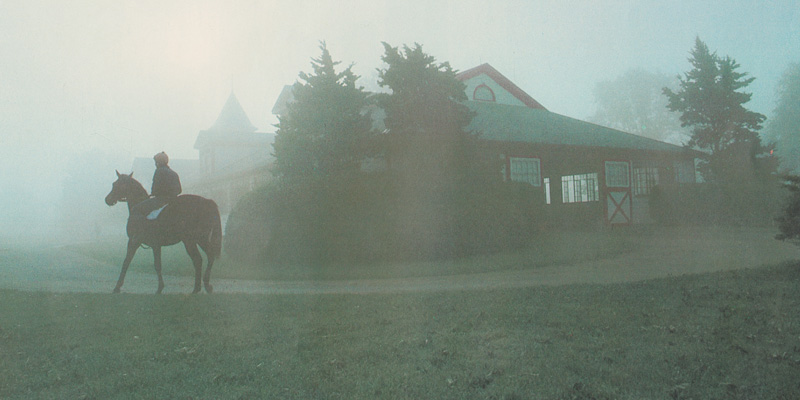 1924
William Monroe Wright, successful entrepreneur and owner of Calumet Baking Powder, established Calumet on a small Lexington Kentucky farm. He initially developed the farm to breed and race Standardbred horses. After Wright's son Warren took over the farm in 1932 following William's death, he began moving the business toward Thoroughbred racing.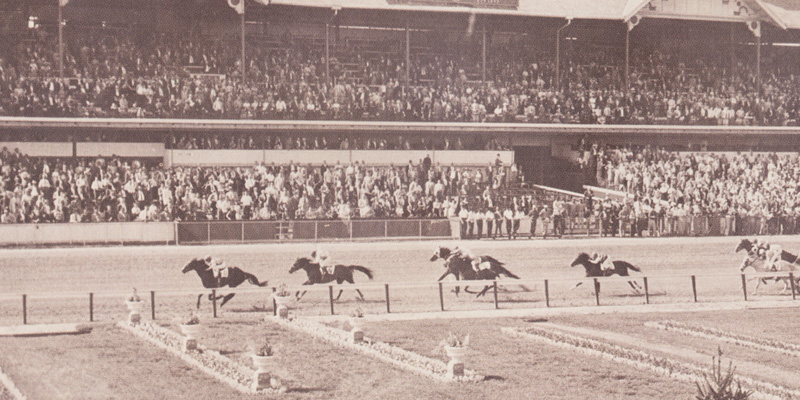 1933
Hadagal became the Wrights first stakes winner – winning the Champagne Stakes at Belmont Park.
The Wrights began bloodstock investments with the idea of breeding and raising their own horses. They purchased Nellie Morse in foal to the stallion American Flag. Nellie Flag was the first champion to don Calumet's "devil" red and blue racing silks, which would remain a staple of horse racing for the remainder of the century.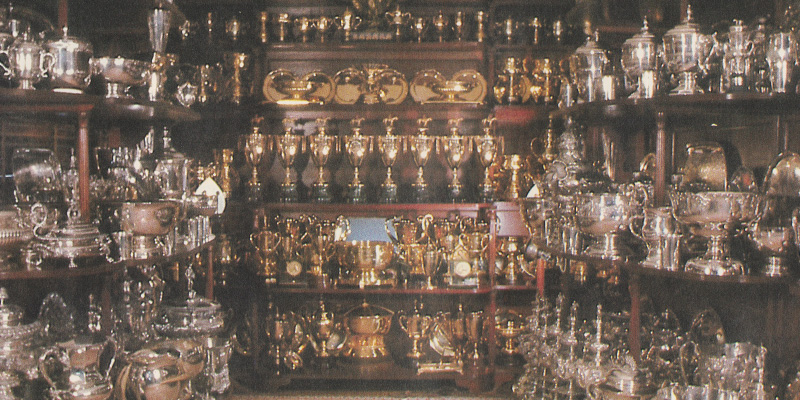 1936
The Wrights purchased an interest in the stud career of English Derby winner Blenheim II and bought a yearling colt at the Saratoga sales who became five-time Leading Sire—Bull Lea.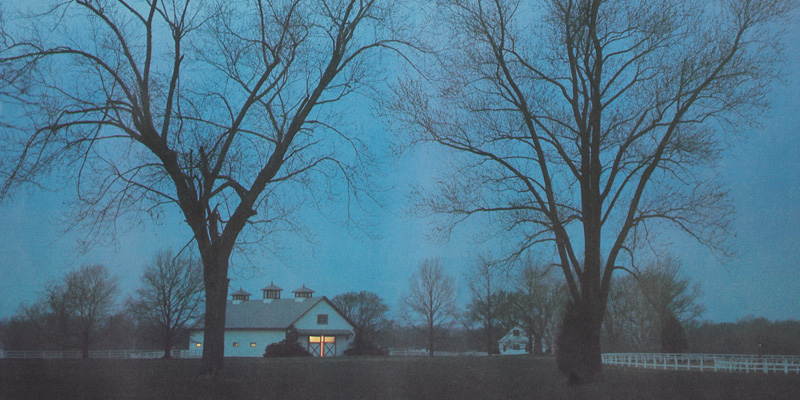 1939
The Wrights hire the famed horse trainer Ben A. Jones. Jones' son Jimmy soon joined him and they trained Calumet horses together for the next 20 years.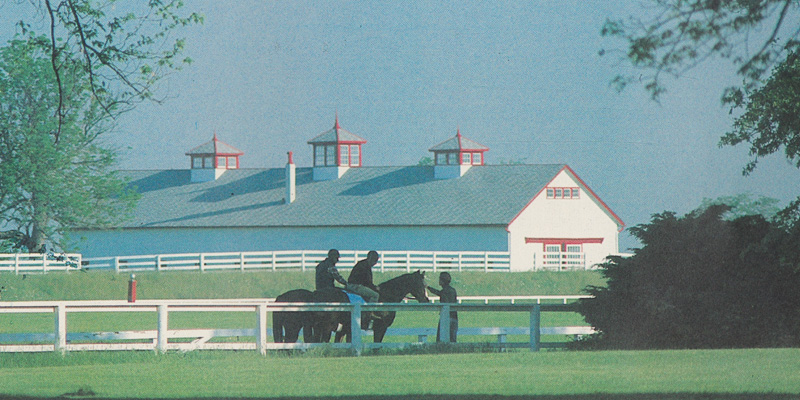 1940
The first Calumet horses were sent to Jones' shedrow.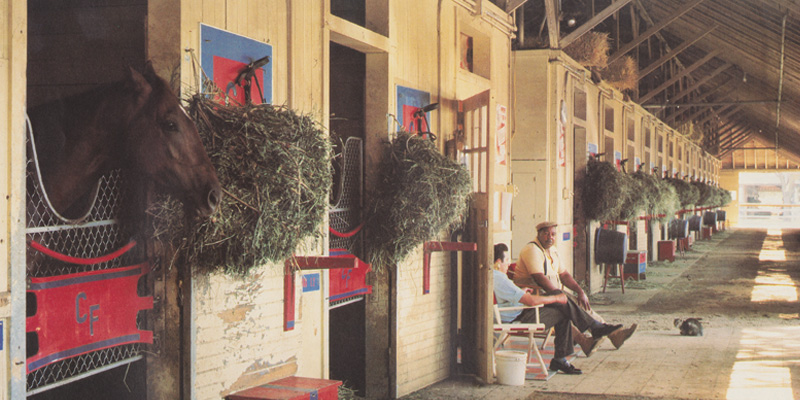 1941
Whirlaway gives Calumet its first Kentucky Derby victory.
He subsequently gives Calumet its first Triple Crown after dominating the Preakness and the Belmont.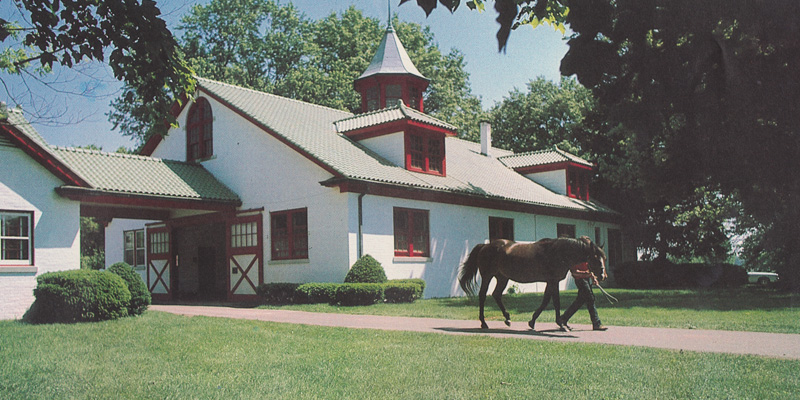 1940's & 50's
Calumet experiences great success throughout the '40s and the '50s, dominating the racing scene with horses like Twilight Tear, Armed, Coaltown and Citation.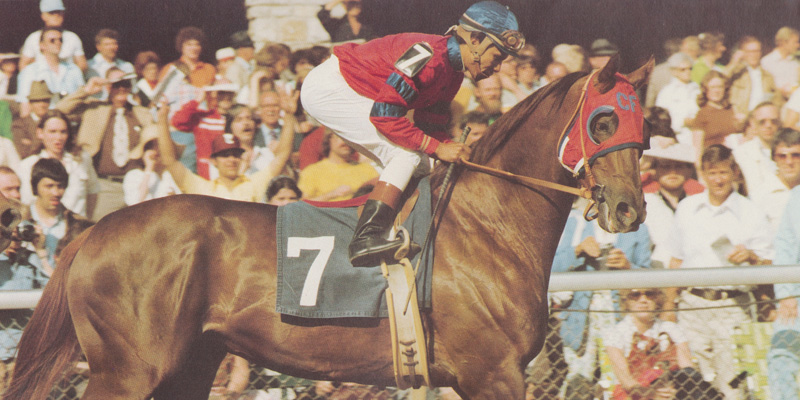 1947
The farm becomes the first to exceed $1 million in purse earnings.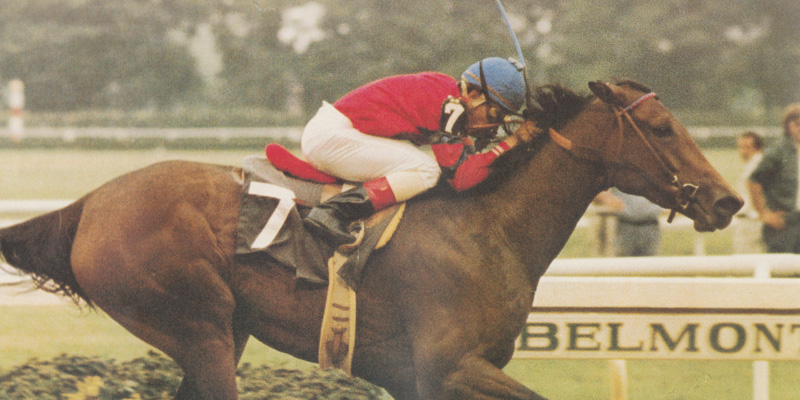 1948
Citation wins the Triple Crown. Legendary jockey Eddie Arcaro would go on to describe Citation as the best horse he ever rode. In media polls at the end of the last century, Citation was ranked with the likes of Man O'War and Secretariat as one of the best racehorses of all time.

1950
Warren Wright passes away.

1951
Citation becomes the first thoroughbred to achieve millionaire status.

1952
Having taken over the farm after her husband's passing, Mrs. Wright remarries in 1952 to Admiral Gene Markey.

1961
Trainer Ben Jones passes away. This also marked the last of Calumet's Leading Owner and Leading Breeder titles, as well as the last of Bull Lea's major stakes winners.

1964
Jimmy Jones retires and Bull Lea dies.

1964 -1977
Calumet only races 20 stakes winners. For many farms this would be considerably successful, however as compared to Calumet's former successes, this was a serious decline.

1976
Calumet hires young John Veitch, son of Hall of Fame trainer Sylvester Veitch, as the farm's private trainer.

1978
Alydar, of Calumet, with Affirmed, provides racing with one of its greatest rivalries. This includes neck and neck finishes of every leg of the Triple Crown, a feat not repeated before nor since.

1979
Due to age and failing health, the Markeys gradually relinquish many of the farm and stable decisions to trainer Veitch, farm manager Melvin Cinnamon and long-time office manager Maggie Glass.

1980
Admiral Markey passed away on May 1st 1980. The day was commemorated by the name of the farm's Grade 1 stakes winner May Day Eighty.

1982
Mrs. Markey passed away in July of 1982. She was the mistress of Calumet for more than 50 years.
After Mrs. Markey's death, the farm passed to the heirs of Warren Wright. Operational management fell to J.T. Lundy, husband of Wright's eldest of four children, Lucille "Cindy" Wright.

1980's
During this time the farm was in serious decline. One of the bright spots was the development of Alydar as a world-class sire. Alydar was America's Leading Sire in 1990 and his Calumet-bred sons won Horse of the year honors in 1990 (Criminal Type) and took another Kentucky Derby in 1991 (Strike the Gold).

1990
Alydars dies and accelerates the farm's decline. Soon afterward the farm goes into bankruptcy, the horses are dispersed and the land put to the auction block in 1992. This seems to mark the end of an era.

1992
Successful businessman Henryk de Kwiatkowski who had grown fond of the pristine beauty of Calumet Farm on his regular visits to the Bluegrass State, learns that the farm is to be auctioned. He quickly flies to Lexington, arriving less than an hour before the event and wins the ownership of Calumet with a final bid of $17 million. After his purchase of Calumet, Kwiatkowski returned the farm to its former beauty with white fences and lush fields.

2003
Henryk de Kwiatkowski passes away and the operation was passed to his family members as a group of trustees.

Major Horses
Warren Jr. (1931) (*became Calumet's first starter on May 30, 1932 and also carried Calumet silks to their first victory at Arlington Park in June '32)
Calumet Butler (1931) (*standardbred)
Hadagal (1933) (*first Thoroughbred stakes winner for Calumet)
Nellie Flag (1934) (*first Calumet Champion to wear Calumet's "devil" red and blue racing silks)
Blenheim II (1936 (*purchased an interest in stud career)
Bull Lea (1936) (*five time Leading Sire — see note at bottom)
Whirlaway (1941) (*won the farms first Triple Crown)
Twilight Tear (1944)(*daughter of Bull Lea who became the first 3-year old filly to be named Horse of the Year)
Armed (1946)(*a hard-knocking Champion Handicap Horse)
Bewitch (1947)(*a Champion 2-year-old Filly)
Coaltown (1948)(*a Champion Sprinter and Horse of the Year)
Citation (1948)(*won the farms second Triple Crown; first thoroughbred to reach millionaire status)
Hill Gail ((1952) (*Kentucky Derby Winner)
Real Delight (1952) (*won what was then considered the "Filly" Triple Crown by sweeping the Kentucky Oaks, Black-Eyed Susan and Coaching Club Oaks)
Barbizon (1956) (*a Champion 2-year-old)
Iron Liege (1957) (*Kentucky Derby Winner)
Tim Tam (1958) (*Kentucky Derby Winner)
Forward Pass (1968) (*Kentucky Derby Winner – actually finished second but the winner was disqualified)
Our Mims (1977) (*won Coaching Club Oaks, Alabama and Delaware Handicap – 1977 Eclipse Awards for Champion 3 y.o. Filly)
Davona Dale (*swept all the important 3 year old filly races – 1979 Eclipse Awards for Champion 3 y.o. Filly)
Alydar (1978) (*finished second in all Triple Crown races to Affirmed)
Before Dawn (1981) (*the year's Eclipse Award Champion 2-year-old filly)
Notable Accomplishments
Two Triple Crown Winners:
Whirlaway (1941), Citation (1948)
Eight Kentucky Derby Winners:
Whirlaway (1941), Pensive (1944), Citation (1948), Ponder (1949), Hill Gail (1952), Iron Liege (1957), Tim Tam (1958), Forward Pass (1968)
Eight Preakness Stakes Winners:
Whirlaway (1941), Pensive (1944), Faultless (1947), Citation (1948), Fabius (1956), Tim Tam (1958), Forward Pass (1968) and Oxbow (2013)
Three National Filly Triple Crown Winners:
Wistful (1949), Real Delight (1952), Davon Dale (1979)
Eleven Horses in the National Museum of Racing Hall of Fame:
Alydar, Armed, Bewitch, Citation, Coaltown, Davona Dale, Real Delight, Twillight Year, Two Lea, Tim Tam, Whirlaway
Five Horses of the Year Titles:
Whirlaway (1941 & 1942), Twilight Tear (1944 *first filly voted horse of the year), Armed (1947), Citation (1948) and Criminal Type (1990)
Two Trainers in the National Museum of Racing Hall of Fame:
Ben A. Jones, H.A. "Jimmy" Jones
Bull Lea remains one of the most impressive sires in the Thoroughbred history. Bull Lea sired 58 stakes winners and his progeny's purses totaled $13,589,181 through 1969. A list of his most famous progeny include:
Armed, Iron Liege, Bewitch, Mark-Ye-Well, Citation, Real Delight, Coal Town, Twilight Tear, Faultless, Two Lea and Hill Gail.