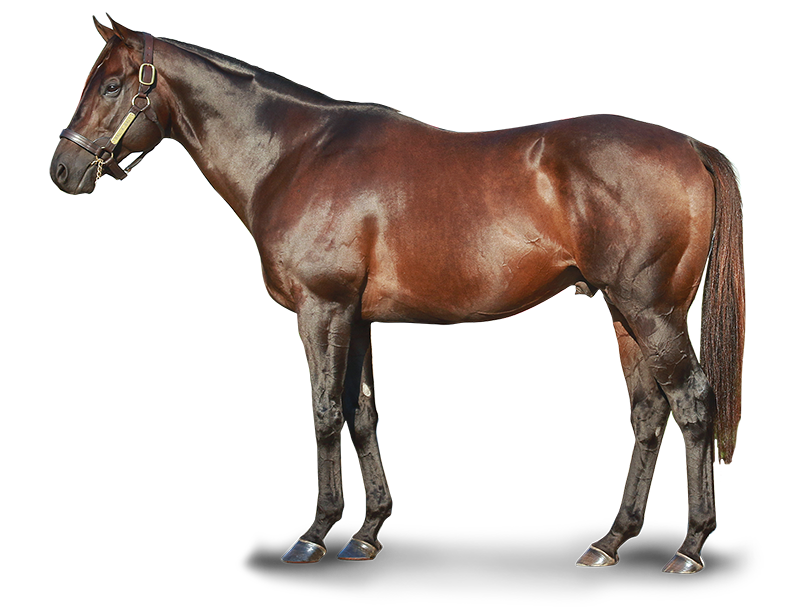 Bal A Bali (BRZ)
Put It Back - In My Side (BRZ), by Clackson (BRZ)
Stud Fee: $5,000 LFSN
Biography
"One of the disappointing things that we didn't get to do with Bal a Bali is prove that he could have been a dirt horse. This horse could outwork anybody in my barn 5/8s, 3/4s, 1/2 a mile on the dirt. Was as fast as you wanted him to be.
I think the interesting thing for breeders also is to take a look at his conformation. He's made like our American Horses. He's got a deep strong shoulder, a very strong hip on him, stout as a bull. Surely he had the laminitis and the problem coming out of quarantine but this horse retired sound with legs as clean as a baby."
– Richard Mandella, Hall of Fame Trainer
"He hails from the Relaunch, In Reality line so it screams a lot of dirt in that family line. It's exciting to see that he could conceivably be a dual purpose stallion. Breeding and producing both turf and dirt horses, both that have that middle distance speed. And that's what's really exciting about Bal a Bali."
– Jak Knelman, Director of Stallion Sales, Calumet Farm
Pedigree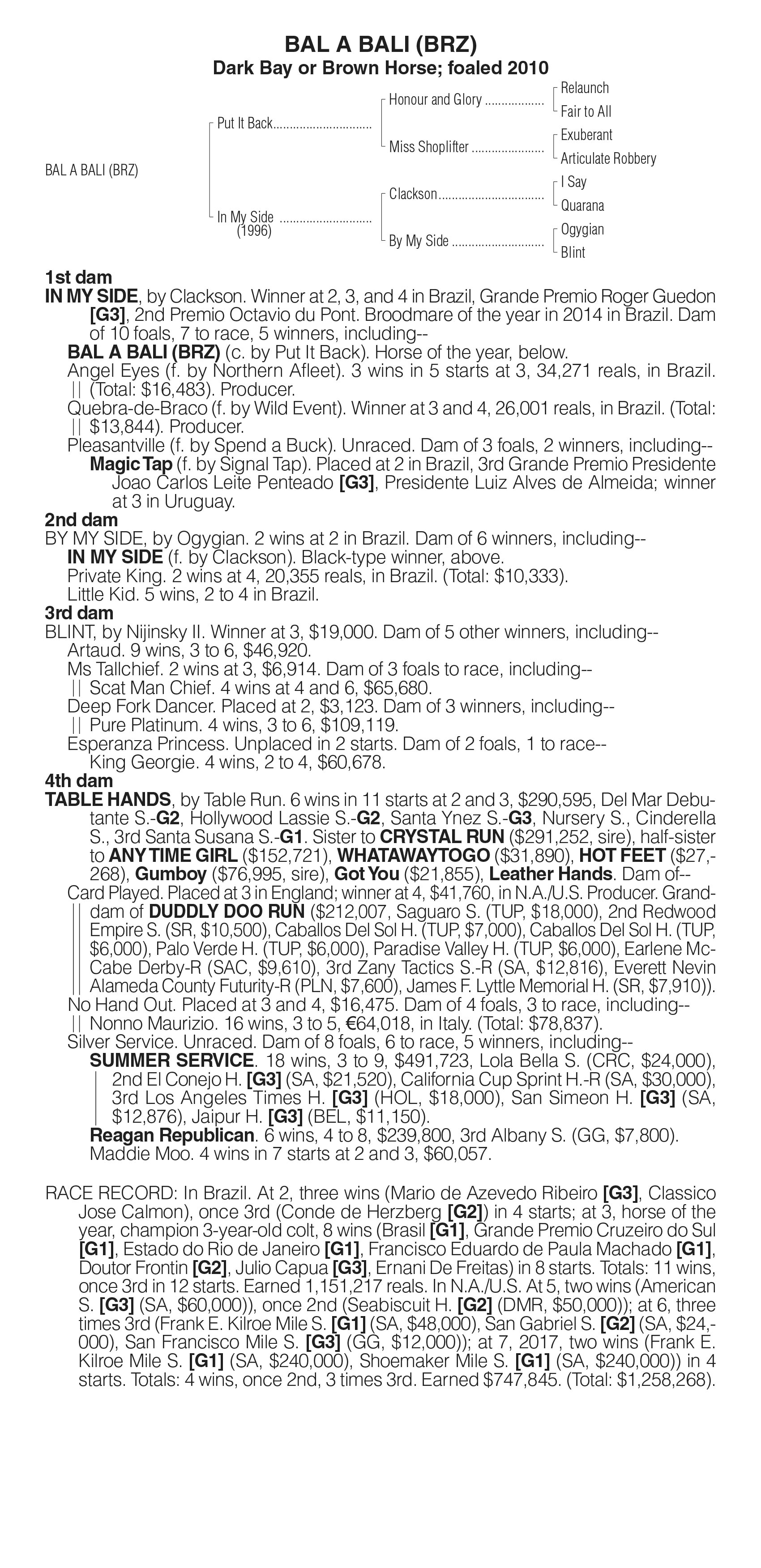 Highlights
MULTIPLE (G1) WINNER IN THE USA
FIRST CROP RUNNERS SHOWING SUCCESS ON THE DIRT!
FIRST CROP 3YO's IN 2022
"The Brazilian Wonder Horse"
Winner of the Brazilian Triple Crown while shattering two track records!
Speed – Speed – Speed
Sire of Hoover Stakes Winner CORNER OFFICE
Sire of Jim Edgar Illinois Futurity, LOOKIN FOR BALA
Sire Record
Number of Stakes Winners:
2
Avg. Earnings/Starter:
$33,309
Race Records
Career Statistics
Highest Equibase Speed Figure:
120
Statistics By Year

Year
Starts
Firsts
Seconds
Thirds
Earnings
2017
4
2
0
0
$494,445
2016
5
0
0
3
$96,345
2015
5
2
1
0
$157,400
2014
8
8
0
0
$469,613
2013
4
3
0
1
$40,465
At 3:
1st in G3 Mario de Azevedo Ribeiro
3rd in G2 Conde de Herzberg
1st in G3 Julio Capua
At 4:
1st in G1 Estado do Rio de Janeiro
1st in G1 Francisco Eduardo de Paula Machado
1st in G1 Grande Premio Cruzeiro do Sul
1st in G1 Brasil
1st in G2 Doutor Frontin
At 5:
1st in G3 American Stakes
2nd in G2 Seabiscuit Handicap
At 6:
3rd in G1 Frank E. Kilroe Mile Stakes
3rd in G2 San Gabriel Stakes
3rd in G3 San Francisco Mile Stakes
At 7:
1st in G1 Frank E. Kilroe Mile Stakes
1st in G1 Shoemaker Mile Stakes